If you have employees who drive as part of their job, it's up to you to know if their license is valid or not. One of the main reasons for an invalid license is a suspended license. People who receive a suspended license don't always self-report and instead continue to drive. This poses a big risk to both your company and community.
5 Reasons for a Suspended License
There are several reasons why your driver could have a suspended license. Some are obvious, while others are not. Below are 5 common reasons that could cause your driver to have a suspended license.
Not showing up to court: If your employee neglects to show up in court, they can lose their license. This often happens when someone travels often out of state for work and may miss the court notice in the mail.
A DUI: As recently reported by NCSL, alcohol is responsible for about 1/3 of all traffic fatalities.
No insurance: About 13% of drivers are uninsured. This means there are about 32 million uninsured drivers on the road.
Failure to pay child support: All 50 states have laws requiring license suspension if a parent falls behind on child support payments.
The number of point violations on a driving record: If an employee receives at least four tickets in one year or five tickets in two years, many states will suspend a license.
Reasons for license suspension vary by state, so be sure to check with your state's DMV for a complete list.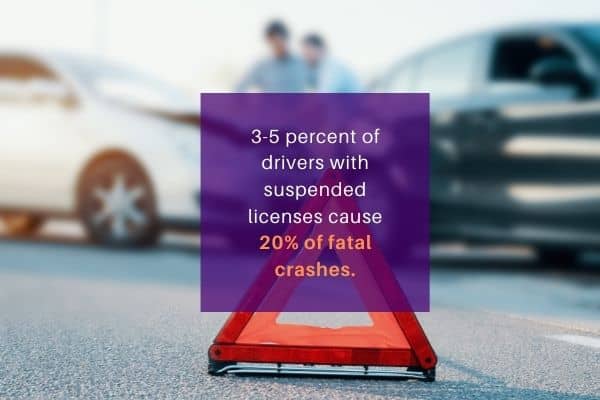 Risk of Driving With a Suspended License
It is up to employers to hire and retain safe drivers. When an employee receives a suspended license, whether or not the employee self- reports their license status change is irrelevant in the eyes of the law. It's the responsibility of the employer to remove drivers with invalid licenses from the road immediately. Retaining drivers with invalid licenses can risk company reputation, safety profile, and lead to increases in insurance rates.
Bottom Line
Drivers with a license suspension (for any reason) are considered high risk drivers. Studies show they have a higher likelihood of being involved in a motor vehicle accident. This group of drivers actually causes 20% of fatal crashes in the United States each year. When there is proven to be negligent hiring or retaining of drivers, the costs associated with accidents skyrocket.
According to the Illinois State Court, in September of 2019, they awarded more than $54 million in a personal injury lawsuit filed against a trucking company for negligent hiring.
Reduce Your Risk
When you pull an MVR, it is a snapshot in time. This means that today your employee could have a valid license, but next week it may no longer be valid. Consider closing the gap and reducing your risk by checking MVRs more often, or considering a continual license monitoring solution.