Many companies find that pulling Annual Motor Vehicle Records (MVRs) is a best practice for their fleet and safety program. It allows them to see what violations have been added to their record for the past year and ensures the driver is compliant.
But is checking employees' driving records once a year really enough? Let's dig into this.
Annual MVR
The Annual Motor Vehicle Record (MVR) is required to stay within FMCSA guidelines for all Commercial Licensed Drivers (CDLs). While this keeps your employee's DQ Files up to date, it does not provide you with timely information. A lot can happen in a year, and you will not be informed of any changes until the following year.
Employers can avoid long gaps between reports with ongoing Driver Record Monitoring.
Driver Record Monitoring
Driver record monitoring gives you the ability to receive ongoing alerts when your driver gets a moving violation, an accident, DUI, or even a license status change. You even receive reminders for upcoming driver's licenses and medical card expiration dates. The platform also allows you to order instant MVRs for most states.
Annual MVRs vs. Driver Record Monitoring
Let's look at an example. You pull your employee's MVR at the beginning of the year, and it is clear. However, in the meantime, the driver receives a speeding ticket, and in May the employee gets into an accident. In July, the employee receives a DUI. And finally, in October the employee receives a suspension. Since you're only pulling Annual MVRs, you don't see this until the beginning of the next year, leaving a large gap in your safety program.
The moment your driver gets behind the wheel after their annual MVR, you no longer have visibility into the risk the driver presents for the rest of the year. Continuously monitoring driver records eliminates the gap between Annual MVRs.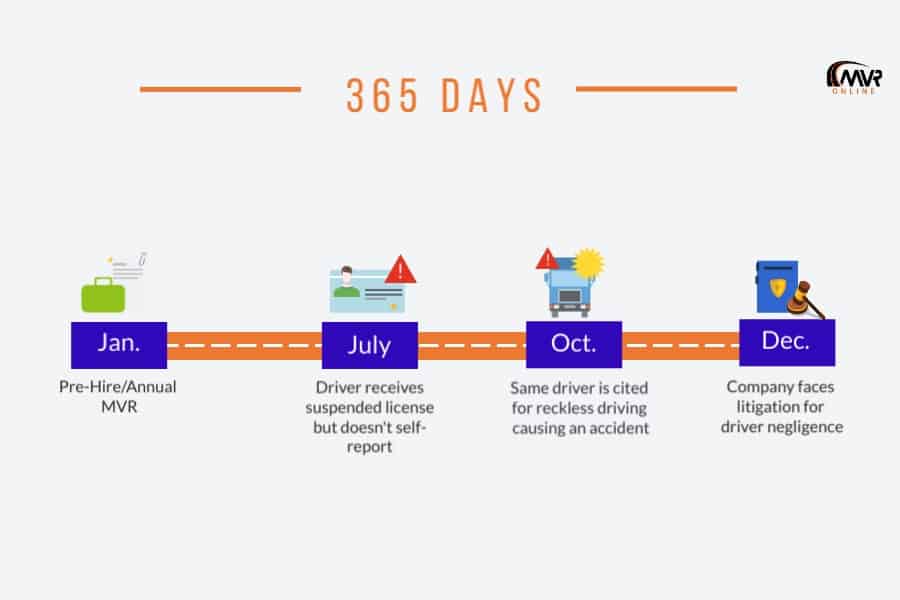 Understanding Points and Violations
What makes MVRs complicated is that they are different in every state. This creates challenges for companies when it comes to reviewing or understanding the many violations. Driver Record Monitoring decodes the violations to make understanding and reading MVRs easier. This greatly reduces the amount of time spent reviewing MVRs.
Cost
The national average for an individual MVR report is $10 but can be as high as $30 in some states. For a company with 100 drivers that comes to about $1,000 for the annual MVRs alone.
With driver record monitoring, you begin by pulling a baseline MVR for all employees (typically at a lower cost). Then, for non-commercial drivers, you are not required to pull annual MVRs in most states. You'd only pull them again for the 5-7% of employees who have negative MVR changes within the year.
The pricing for the monitoring program is based on your company's overall driver count. The more drivers enrolled, the less the monthly costs.
Enhancing your Safety Program
Pulling Annual MVRs is the minimum requirement. Driver Record Monitoring allows you to be on top of your drivers' eligibility. Monitoring your drivers' MVRs continuously shows that your organization not only cares about your employees' safety but those around you.
There are several reasons why driver record monitoring is a more complete and proactive option to monitor your drivers' records. Other benefits included in the system such as a driver file manager, online driver training, driver segmentation, and more help streamline the entire driver record process.
Do you want to get a personalized quote and see if driver record monitoring may be a better fit for you? Contact us and let us know how many drivers you have.
Annual MVRs vs. MVR Monitoring