First, what is a CSA Score exactly?
CSA stands for Compliance, Safety, and Accountability. It is used to help the Federal Motor Carrier Safety Administration (FMCSA) identify high-risk commercial motor carriers. The goal is to help prevent accidents and to hold carriers accountable for their safety standards. Your company's score is based on data reported by the Safety Measurement System (SMS). It uses driver information from the last two years and organizes it into 7 basic categories.
7 FMCSA Basic Categories
Unsafe Driving. This is careless operation of a commerical motor vehicle. Violations can include speeding, texting while driving and so much more.
Driver Fitness. Violations in this cateorgy occur when a commercial vehicle operator has an invalid license.
Vehicle Maintenance. A driver or company can be cited for failure to properly maintain or repair the vehicle.
Hours of Service (HOS) Compliance. Violations in this section can occur when a driver exceeds HOS regulations or is unfit to be behind the wheel.
Controlled Substances. A driver can recieve violations when they are in possesion of illegal substances or under the influence of alcohol.
Hazardous Materials. This happens when a commerical motor vehicle has improper handling of hazardous materials.
Crash Indicator. This is information from the state based on the amount accidents the driver has been involved in.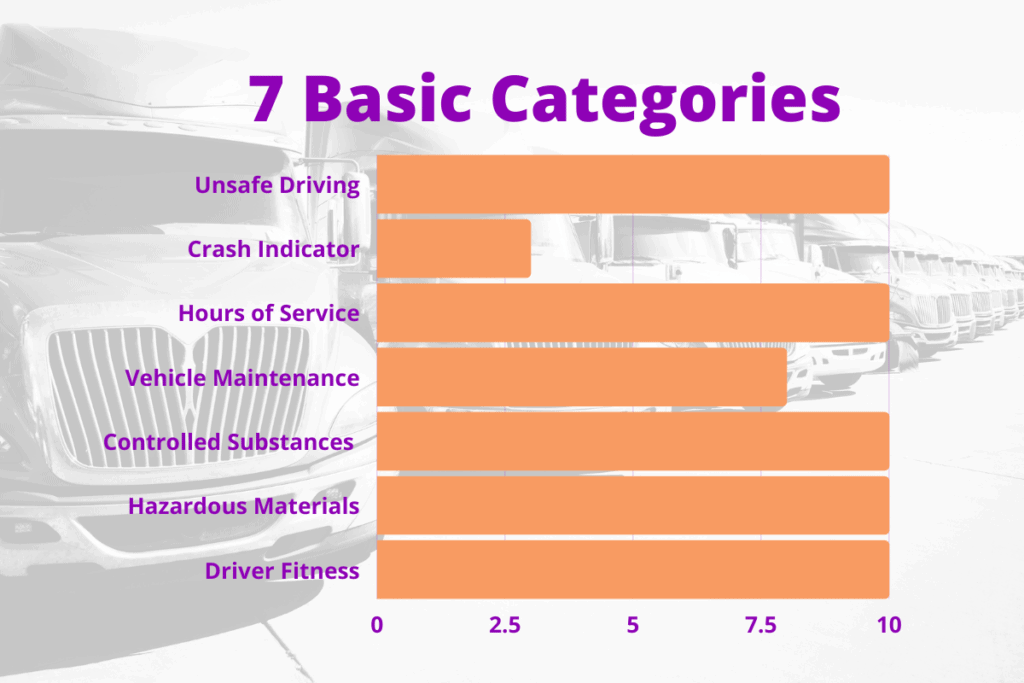 *The graph shows the maximum number of points each category can get per violation.
What is a Good CSA Score?
Once the SMS has collected and organized the data, it ranks carriers and assigns them a percentage from 0 to 100. Each violation adds points, which means the lower the score the better. A score of 0 represents the best performance, while a score of 100 represents the worst. Once a carrier reaches a score of 65% or more in unsafe driving, crash indicator, and HOS compliance, this alerts FMCSA to start performing audits. For hazardous materials and passenger carriers, scores can be as low as 60% and 50%.
Having a good CSA score is important for several reasons. It helps with reducing insurance premiums, having fewer compliance checks, recruiting and retaining drivers. On the other hand, poor scores can cause serious issues for the carrier. Insurances rates can increase for the company. You will see more inspections and interventions from the FMCSA. Carriers can even face out-of-service orders or business shutdowns.
In, 2012 Texas trucking company (Demco Express) was forced to shut down by the FMCSA. They had to cease operations due to violations in 5 out of the 7 categories. They scored 97.1 percent in unsafe driving, 99.4 in fatigued driving, 99.8 in driver fitness, 81.2 in drugs and alcohol, and 97.1 in vehicle maintenance.
You can check your company's CSA score through the FMCSA's website. All you need is your Department of Transportation (DOT) number.
Hacks to Improve Your Score
CSA Scores can be improved over time by making safety a core focus for your company. Follow these four guidelines to help lower your CSA Score.
Focus on vehicle inspections. Before your driver gets behind the wheel, be sure to thoroughly inspect the vehicle. Vehicle inspection violations can range from 2 to 8 points allowing maintenance points to add up quickly.
Improve your hiring process. CSA Scores are calculated from all of your drivers' roadside inspections. Be sure to check your drivers' MVRs to ensure they have a good safety record.
Educate your employees. Inform your employees about CSA scores. Help your employees understand the consequences associated with violations and vehicle crashes.
Know where your drivers stand. MVR Monitoring technology can help identify drivers' with invalid licenses and violations in real-time. This helps companies only keep qualified drivers on the road.
Stay in the know. Check the FMCSA's resources for recent information and regulations that can affect your company.
Why CSA Scores Matter
CSA Scores serve as an indicator of how well organizations implement safety procedures. To ensure your company keeps a good score, make sure safety becomes a number one priority. Checking your drivers' MVRs more frequently can help you identify repetitive risky behaviors and put corrective measures in place before they can affect your score.